BioAdvanced All-In-One Lawn Weed and Crabgrass Killer Review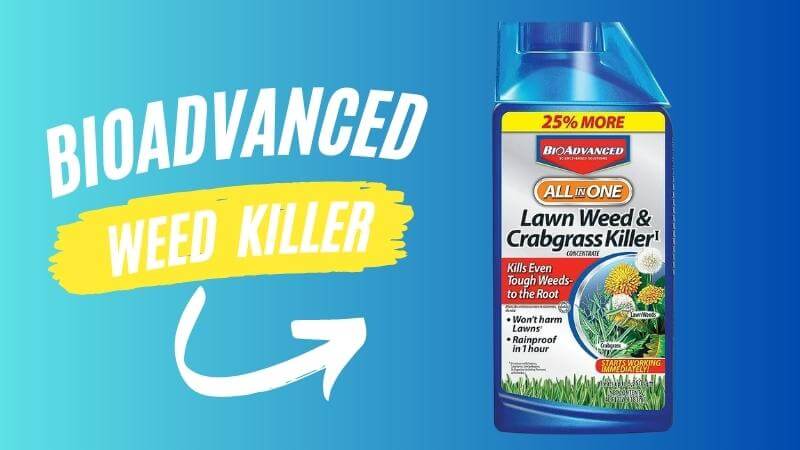 There are many products that promise a weed-free lawn, but few actually deliver. For homeowners passionate about maintaining a perfect lawn, the battle against persistent weeds and crabgrass can be relentless.
After personally trying out the "BioAdvanced All-In-One Lawn Weed and Crabgrass Killer," here's my comprehensive review for those who are equally keen on banishing pests from their lawns.
Quick Summary
| Feature | Details |
| --- | --- |
| Brand Name | BioAdvanced (Previously Bayer Advanced) |
| Coverage | 5,000 sq. ft. per 40 oz |
| Active Ingredients | 2,4-D, Quinclorac, Dicamba |
| Targeted Weeds | Over 200 types, including Dandelion, Crabgrass, and Foxtail |
| Mix Ratio | 3.2 oz to 1 gallon of water |
| Application | Hose-end sprayer, Tank sprayers |
| Usable Grass Types | Bermudagrass, Kentucky bluegrass, Ryegrass, and more |
| Non-Usable Grass Types | Bahiagrass, Carpetgrass, Centipedegrass, etc. |
Efficiency & Effectiveness
The BioAdvanced All-In-One Lawn Weed and Crabgrass Killer claims to eliminate over 200 listed weeds including notorious troublemakers like dandelion, foxtail, broadleaf plantain, and of course, crabgrass.
In my experience, this product holds up to its promise. A few days post-application, I noticed a considerable reduction in weeds, and within a week, the stubborn crabgrass started to wither away.
The potency of this formula is attributed to its active ingredients, which include 2,4-D dimethylamine salt, Quinclorac, and Dicamba dimethylamine salt. These are tried and tested weed killers known for their effectiveness.
Lawn Safety
A significant concern when using weed killers is the potential harm they can cause to the lawn. The "BioAdvanced All-In-One" emphasizes that it won't harm your lawn when used as directed. This claim is largely accurate. I applied it to various lawn grasses – Kentucky bluegrass, fescue, and zoysia, and noticed no harm.
However, a slight discoloration on Bermudagrass was observed, but as mentioned, it was temporary, and the grass recovered within days. Avoid using this product on Bahiagrass, Carpetgrass, and a few others as listed, as these might not respond as well.
Weed List
Bayer Advanced All-In-One Lawn Weed and Crabgrass Killer boasts a unique formula to eliminate lawn weeds and crabgrass in just one application. Its powerful blend targets over 200 listed weeds, including Crabgrass, Dandelion, Foxtail, Barnyardgrass, Broadleaf Plantain, Black Medic, and Dollarweed. It works synergistically to eradicate these nuisances down to their roots.
Coverage Area
One of the standout features of this product is its ease of application. With clear mix ratios of 3.2 fluid ounces (roughly 6 and 1/2 tablespoons) per gallon of water, preparing the solution was straightforward.
The product also accommodates various application methods, be it tank sprayers or hose-end sprayers, which is convenient. A 40 oz bottle can treat up to 5,000 square feet, which is quite impressive and ideal for those with expansive lawns.
Rainproof Feature
Rain can often play spoilsport when you've just treated your lawn. However, with the BioAdvanced formula being rainproof in just an hour, unpredictable weather patterns are less of a concern.
How to Use
The best results were observed when spraying the formula during cooler temperatures (below 90°F and 85°F for Bermudagrass) and when weeds were small and growing actively.
Conclusion
For those weary from the continuous battle against lawn pests, I'd highly recommend the BioAdvanced All-In-One Lawn Weed and Crabgrass Killer. Its comprehensive weed-kill list, ease of application, and fast-acting formula provide effective results without compromising the health of your lawn.
Remember, a beautiful lawn is about more than just growing grass but ensuring weeds don't find a home there. This product is a robust step in that direction.