Demand CS Insecticide Reviews
Pests are the uninvited guests that no homeowner, business owner, or gardener ever wants to deal with. But the reality is that pests are ubiquitous and often show up at inconvenient times.
Fortunately, the market has an array of products that promise to get rid of these pesky intruders. One such product that stands tall in this line-up is the Demand CS Insecticide. Let's dive into an in-depth review of this product.
Demand CS Overview
| Feature | Description |
| --- | --- |
| Active Ingredient | Lambda-Cyhalothrin (9.7%) |
| Target Pests | Over 30 types, including ants, cockroaches, ticks, mosquitoes, etc. |
| For Use In | Residential, commercial, industrial settings (indoors and outdoors) |
| Longevity | Up to 90 days |
| Technology | Patented iCAP technology for slow-release |
| Mixing Rate | 0.2 to 0.8 fl oz per gallon of water, depending on infestation |
| Odor | Low |
| Staining | Non-staining |
Key Features and Benefits
Optimized Capsules Size:

 Ensures complete coverage on varied surfaces, increasing its pick-up rate by insects.

Low Odour and Non-Staining:

 Makes it ideal for both indoor and outdoor use.

Reduced Callbacks:

 A single application offers protection for up to four months.

Wide Application Range:

 From residential to commercial and even public spaces.

Highly Concentrated:

 One 8 oz bottle can make approximately 40 gallons of the finished spray mix.

Easy Application:

 Depending on the level of infestation, users can adjust the concentration from light to severe.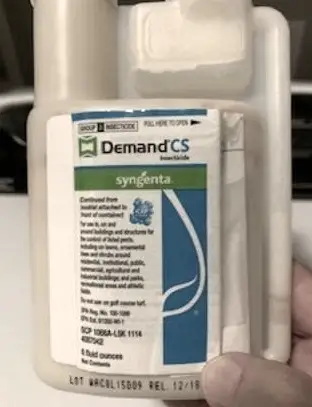 What is Demand CS Insecticide?
Demand CS Insecticide, equipped with the unique iCAP technology, is a water-based concentrate that offers unparalleled indoor and outdoor pest control.
With a potent active ingredient, lambda-cyhalothrin, this advanced generation insecticide promises a residual control of a broad spectrum of crawling and flying insects.
Science Behind Its Efficiency
The microencapsulated formulation is what makes Demand CS truly stand out. The product releases thousands of micro-particles that bind firmly to surfaces when applied. These microcapsules are lipophilic, which means they can easily adhere to the waxy cuticles of pests, ensuring swift knockdown and lasting control.
The patented iCAP technology ensures the slow release of lambda-cyhalothrin. This ensures that the product remains active for up to 90 days, giving users peace of mind, reducing the frequency of applications, and making it a cost-effective solution.
Broad-Spectrum Control
One of the major strengths of Demand CS is its broad-spectrum control. It effectively deals with over 30 common pests. Whether you're troubled by flying insects like mosquitoes, flies, and wasps or crawling pests such as spiders, ants, and cockroaches, Demand CS has you covered.
Application Rates
Light infestations: 0.2 fl oz per gallon of water

Medium infestations: 0.4 fl oz per gallon of water

Severe infestations: 0.8 fl oz per gallon of water
Target Audience
Given its comprehensive pest control capabilities, Demand CS is ideal for:
Homeowners wanting a long-term solution for pest problems.

Commercial spaces like restaurants, offices, and stores are looking to maintain a pest-free environment.

Facilities managers of public and institutional spaces.

Professional pest controllers in search of a reliable and efficient product.
Final Thoughts
In my quest for an effective pest control solution, Demand CS Insecticide has proven to be a remarkable find. It's cost-effective, requiring less labour and reduced callbacks, allowing me to focus on other important tasks. The swift action, combined with the lasting effects, truly makes it a leader in the pest control market.
If you want to reclaim your space from pesky invaders, I'd highly recommend trying Demand CS Insecticide. It's not just an insecticide; it's a promise of a pest-free environment. And from my experience, it's a promise that Demand CS keeps impeccably.