Spectracide Mound Destroyer Review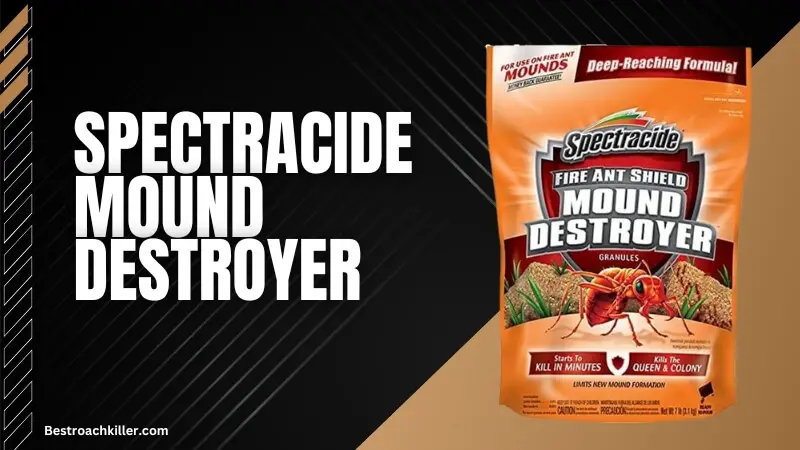 Fire ants have long been a bane for homeowners, gardeners, and anyone who enjoys spending time outdoors. Their painful stings and unsightly mounds can ruin an otherwise beautiful lawn or garden.
But the ongoing battle against these resilient pests may be drawing to a close, thanks to Spectracide Fire Ant Shield Mound Destroyer Granules. Here's our in-depth review of this product, breaking down its features, benefits, and minor drawbacks.
Feature Overview
| Feature | Description |
| --- | --- |
| Application | Direct on mounds |
| Primary Benefit | Kills queen and colony |
| Technology Used | Accelerator II |
| Active Ingredient | Lambda-Cyhalothrin 0.04% |
| Best Time for Application | Morning or Evening |
| Money-Back Guarantee | Yes |
| Sizes Available | 3.5 lb, 7 lb |
| Usage Amount | ½ cup per mound |
| Additional Requirement | Watering-in post-application |
| Pros | Resealable, Deep action, Assured kill, Money-back guarantee |
| Cons | Unpleasant smell, Needs watering-in |
Spectracide Mound Destroyer
Spectracide's offering for fire ant control is not just a simple pesticide; it's a deep-reaching formula specifically crafted to target fire ant mounds. The product boasts of its exclusive Accelerator II technology, which speeds up the release of its active ingredient into the mound. This technology ensures the product starts its lethal action within minutes of application.
The Selling Points:
Mound Destroyer

: The name says it all. This product isn't about repelling; it's about destruction. It is formulated to kill, starting its action in mere minutes after application.

Queen and Colony Eradication

: The real test of any fire ant treatment is not just killing the worker ants but getting to the root of the problem – the queen. Spectracide promises to kill the queen and the entire colony within 24 hours, a bold claim in the world of pest control.

Deep-Reaching Formula

: With the Accelerator II technology, the granules ensure that the active ingredient reaches deep into the mound, making it difficult for the ants to escape its action.

Money-Back Guarantee

: The brand is confident enough to offer a money-back guarantee. This speaks volumes about its effectiveness. If it doesn't work, you aren't losing your money.
How to Use?
The application seems straightforward. You sprinkle the granules around and over the mound, then gently water them in. The watering process activates the granules, ensuring they penetrate deep into the mound. 
However, users should be cautious not to disturb the mound with forceful water sprays as it may scatter the ants and reduce the product's efficiency.
The Pros and Cons
As with any product, there are some aspects of Spectracide's Mound Destroyer that users will love and some they might not.
What We Like:
Resealable Bag

: Keeps the product fresh and makes storage easier.

Accelerator II Technology

: This unique feature ensures that the product reaches deep into the mound, increasing its efficiency.

Kills the Queen and Colony

: Not all products can make this claim. By eliminating the queen, the mound's chances of resurgence diminish considerably.

Money-Back Guarantee

: It's always reassuring when a company stands by its product.
What We Don't Like:
Unpleasant Smell

: This might be a turn-off for some users, but it's a small price for an ant-free yard.

Watering-in Requirement

: The additional watering step might be a hassle for some, especially those looking for a quick sprinkle-and-go solution.
Final Thoughts
Spectracide Fire Ant Shield Mound Destroyer Granules is a comprehensive solution for anyone with fire ants. While its smell may be off-putting to some, and the watering-in step seems tedious, its benefits outweigh the negatives.
The inclusion of the money-back guarantee is a reassuring touch. This might be your solution if you are searching for a product that promises deep-reaching and rapid action against fire ants. Remember, an ant-free yard is not just about comfort but safety.