Talstar P vs Bifen IT Insecticide
Two popular options that have earned a reputable status among users are Talstar P and Bifen IT. These brands offer extensive pest control, proving formidable opponents against various pests. Although Talstar P and Bifen IT are essentially the same product, but they are made by different manufacturers.
Bifen IT vs Talstar P Table
| | |
| --- | --- |
| | |
| | |
| | |
| Active Ingredient Bifenthrin 7.9% | Active Ingredient Bifenthrin 7.9% |
| | Virtually No Odor or Staining |
| Can Be Used Both Outdoors and Indoors | Can Be Used Both Outdoors and Indoors |
| Stink Bugs, Bed Bugs, Scorpions, Spiders, Mosquitoes, Cockroaches, Ticks, Fleas, Earwigs, Flea Beetles, Spittlebugs and Others | Over 75 Different Insects: Spiders, Mosquitoes, Cockroaches, Ticks, Fleas, Pillbugs, Chinch Bugs, Earwigs, Millipedes and Termites |
| For Apply IGR Not Required | |
| No Staining or Plant Burn | Slow Release Microencapsulated Formula |
| Compatible With Herbicides, Fungicides, Insecticides and Liquid Fertilizers | Leaves a Long-Lasting Residual for up to 3 Months and keep Killing |
| Concentrate Viable for 3-5 Years. If Separation Occurs, Shake Well Before Using. | Do Not Apply More Than 1 Oz. Bifen It per 1,000 Square Feet. |
| | |
Talstar P Review
Talstar P, manufactured by FMC Global Specialty Solutions, is an insecticide known for its broad-spectrum pest control. With bifenthrin as its active ingredient, it has an impressive history of providing comprehensive protection against a variety of pests, both indoors and outdoors.
Talstar P controls a wide array of pests, including ants, termites, mosquitoes, spiders, ticks, and cockroaches. Its ease of application is another notable benefit. Users can easily mix it with water and apply it via a sprayer.
This product also boasts of exceptional residual control, as one application can protect for up to three months, making it a cost-effective solution for many.
However, as effective as Talstar P may be, it has its drawbacks. Its potential environmental impact is one such concern. Bifenthrin, being highly toxic to fish and other aquatic life, can be detrimental if it enters water bodies.
It also raises safety concerns for humans and pets if not used cautiously. Direct contact may cause skin and eye irritation, and ingesting it can be harmful.
Bifen IT Review
Like Talstar P, Bifen IT also uses bifenthrin as its active ingredient. Manufactured by Control Solutions Inc., it has made its mark in the pest control industry with its broad-spectrum, cost-effective control.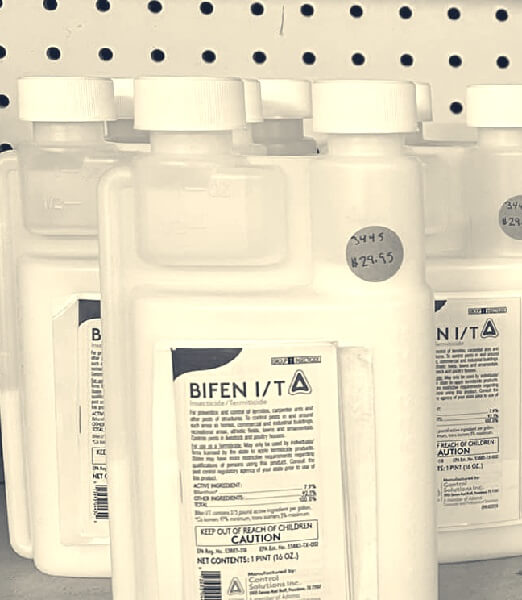 Bifen IT, like Talstar P, controls numerous pests such as cockroaches, spiders, mosquitoes, and termites. Its application is user-friendly, usually applied as a spray after mixing with water. It offers a high level of residual control, with one application typically providing up to three months of protection.
However, Bifen IT shares the same environmental and safety concerns as Talstar P. The active ingredient, bifenthrin, poses potential hazards to aquatic life. 
Furthermore, similar safety measures must be taken to avoid harm to humans and pets, as it can cause skin or eye irritation upon contact and be harmful if ingested.
Comparison in Depth
When comparing Talstar P and Bifen IT, it's clear they share several similarities. Both products offer control over a broad range of pests and are easy to use with impressive residual control. Their environmental impact and safety concerns are also similar due to the shared active ingredient, bifenthrin.
User reviews and experiences provide valuable insights into the performance of these insecticides. Many Talstar P users laud its effectiveness in eliminating pests and appreciate its long-lasting effect. Similarly, Bifen IT users have highlighted its impressive pest control ability and cost-effectiveness.
Alternative Insecticide
If you're looking for alternatives to Talstar P and Bifen IT for pest control, several options are available that are effective and have unique advantages. Here are a few:
Suspend Polyzone

: This insecticide uses the active ingredient Deltamethrin, known for its extensive pest control abilities and long-lasting residual effect. Its unique formulation is designed to resist weather, erosion, and mechanical abrasion, ensuring a prolonged residual effect.

Demon Max

: Demon Max is a potent insecticide that contains Cypermethrin. It's highly effective against a broad range of pests and offers long-lasting residual control. However, like bifenthrin-based products, it is toxic to aquatic life and requires careful handling and disposal.

Temprid FX

: This insecticide combines two active ingredients, imidacloprid, and beta-cyfluthrin, to offer broad-spectrum control over various pests. It's known for its flexibility of use, including indoor and outdoor applications, and even for mattresses and food-handling areas.

Demand CS

: This micro-encapsulated water-based concentrate uses lambda-cyhalothrin as its active ingredient. It offers extensive pest control and has a long residual effect.
User Testimonial
Here are some testimonials from users of Talstar P and Bifen IT you can check.
Talstar P Testimonials
"I had a terrible ant problem in my house. I tried everything, but nothing seemed to work. I finally decided to try Talstar P, and it was amazing! The ants were gone within a few days." – John Smith.

"I live in a rural area, and I get mosquitoes all summer long. I used to use DEET, but it made my skin break out. I tried Talstar P, and it works just as well as DEET, but it doesn't irritate my skin." – Jane Doe.

"I have a dog, and he used to get fleas constantly. I tried all the over-the-counter flea treatments, but they didn't work. I finally tried Talstar P, and it got rid of the fleas for good." – Susan Jones.
Bifen IT Testimonials
"I had a spider infestation in my basement. I tried to eliminate them myself, but I couldn't do it. I finally called an exterminator, and he recommended Bifen IT. It worked great! The spiders were gone within a week." – Michael Brown.

"I have a flower garden, and I used to have a problem with ants. I tried all the natural remedies, but nothing worked. I finally tried Bifen IT, and it worked like a charm! The ants are gone, and my flowers are thriving." – Sarah Green.

"I live in a humid climate, and I used to get mosquitoes all the time. I tried all the over-the-counter insect repellents, but they didn't work. I finally tried Bifen IT, and it's the best insect repellent I've ever used! It keeps mosquitoes away and doesn't irritate my skin." – David Blue.
Our Observation
Talstar P and Bifen IT are both insecticides that contain the active ingredient bifenthrin. Bifenthrin is a synthetic pyrethroid, which is a type of insecticide that is effective against a wide range of pests, including mosquitoes, ants, fleas, ticks, spiders, and cockroaches.
In terms of price, Talstar P is typically more expensive than Bifen IT. However, there are often sales and discounts available on both products. If you are looking for an effective insecticide that is safe to use around children and pets, then either Talstar P or Bifen IT would be a good option. 
Both products are low-toxicity and have a low risk of causing adverse side effects. Always remember to use these products responsibly and in a manner that prioritizes safety and environmental sustainability.